Fun as a Foodie: Graduate School for Nutrition/Public Health
I cannot believe it's been over two years since I graduated from the Honors College and the EC Scholars program. The time has absolutely flown by, and I have certainly kept busy! I am currently in my final year of graduate school at the University of Tennessee-Knoxville, where I am pursuing dual master's degrees in nutrition and public health and will also be completing my dietetic internship in the spring of 2019. Though this chapter of my life has taken me approximately 450 miles away from Greenville, I'm happy to report that I've found a few fellow Pirates who proudly bleed purple and gold out here in Big Orange Country.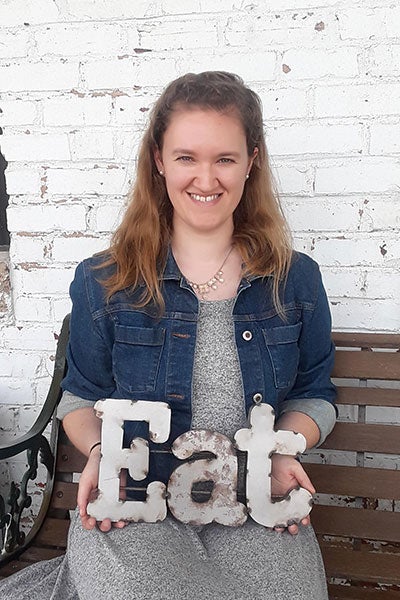 Graduate school has been very different from my undergraduate experience. Though I have taken plenty of exams and quizzes, most of my assignments have been papers and projects that have encouraged me to think critically and apply what I have learned (much like the assignments given in Honors seminars and colloquia). I have also had plenty of opportunities to use my new knowledge and skills to serve the community. Like ECU, UTK promotes service-learning and facilitates partnerships that will mutually benefit students and communities. My favorite service-learning experiences have been leading after-school programs in local elementary and middle schools. As I watched students handle chef's knives in Culinary Club and advocate for anti-smoking legislation in Teens Working for Reform (ToWeR)- activities I certainly was not doing at their age- I was amazed by their capability, passion, and confidence.
My love of after-school programs led me back home to Raleigh this summer for a field placement with the YMCA of the Triangle. For nearly two months, I put everything I have learned about community assessment and program evaluation into practice while examining facilitators and barriers affecting the implementation of the YMCA's Healthy Eating and Physical Activity (HEPA) standards in after-school programs throughout Wake County. When I was not making site visits or analyzing data, my preceptor helped me arrange additional experiences based on my interests in policy and communications. We attended a variety of committee meetings at the North Carolina General Assembly during my first two weeks, and she entrusted me with the task of writing a series of articles and tweets promoting the North Carolina Healthy Out-of-School Time (NC HOST) recognition program (which can be found here: https://www.ncymcaalliance.org/). I felt completely "in my element" during my time with the YMCA, and I returned to Knoxville with a clearer sense of how I want my career to look.
I gratefully credit the Honors College and the EC Scholars program with much of my post-graduate success. Though my graduate program is equipping me with the technical skills and knowledge to excel in my field, the opportunities that I was given at ECU helped me to lay a firm foundation. It was at ECU that I began learning how to be a leader, a researcher, and a mentor. I learned why networking is so important and how to do it effectively, and I gained experience collaborating with peers and colleagues in other disciplines. My time at UTK has made me a proud Volunteer, but as I prepare to graduate and look back on my academic journey, I am proud to say that I will always be, first and foremost, a loyal and bold Pirate.