About the Award
The Brinkley-Lane Scholars program is a merit scholarship program originally established in 1998 as the EC Scholars Program that attracts high-ability students to East Carolina University who have the promise and capability to become scholars and leaders in eastern North Carolina and beyond. This is the most prestigious scholarship offered at East Carolina University and is offered to the top students in ECU's entering freshman class. Brinkley-Lane Scholars exhibit outstanding academic performance, engagement in the community, effective leadership skills, and embrace a study abroad experience.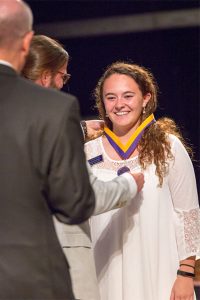 As a Brinkley-Lane Scholar, you will receive membership to ECU Honors College and all of the associated benefits, which include:
A scholarship at the amount equal to in-state tuition for eight continuous semesters
Living arrangements in Greene Residence Hall, the newest renovated residence hall on campus located on West End
Access to Honors Seminars, small class setting with innovative and unique curriculums
Priority course registration to guarantee your needed classes and preferred times
Graduate-level borrowing privileges at Joyner Library
Access to Mamie Jenkins Building for study spaces and printing
Priority admission to select ECU Graduate Programs; eliminating the need for GRE or interviews
In addition to those benefits, you will receive additional benefits unique to the Brinkley-Lane Scholars Program including:
The full cost of attendance for eight continuous semesters for both in-state and out-of-state students
$5,000 stipend to support a required Study Abroad experience
Leadership internship placements focused on professional development through non-profit experience
Research internship placement alongside faculty in the nationally-recognized Engagement and Outreach Scholars Academy for community-engaged research
High-Impact Trips with your cohort to Charleston, South Carolina and Washington, D.C.
A pre-college, team-building retreat to North Carolina's Outer Banks
If you are selected as a Brinkley-Lane Scholar finalist and invited to Selection Sunday, you are also eligible for discipline-based scholarships in the following areas: business, humanities, nursing, and social science. These are four-year awards valued at up to $12,000 total and can be added to the support of the Brinkley-Lane Scholars and Honors College scholarships.
Please feel free to reach out with inquiries about the program! For additional information about the Brinkley-Lane Scholars Program, please e-mail brinkleylane@ecu.edu or contact Dr. Katie Ford, Acting Director of the Brinkley-Lane Scholars Award Program at fordk@ecu.edu or call 252-328-6373.