A Wider Window: Carly Judd's Semester at Sea
"I will never forget the stars in the Sahara desert. It looked like a glitter jar exploded on a huge body of ink. I relive that moment as often as I can. Another one of those moments was getting to the top of the Great Wall. It was more than breathtaking. Words cheapen what it meant to me." Although Jules Verne might have considered traveling the world in eighty days impressive, Carly Judd believes that taking the time to smell the roses is better practice. Otherwise, what kind of meaning can you get seeing the world from a narrow airplane window? Like us, Carly finds the value of a study abroad in seeing the world from a wider window.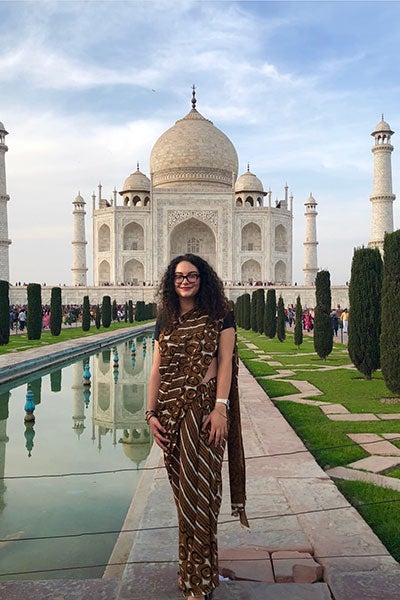 It might've not been in the renowned eighty days, but senior EC Scholar Carly Judd got to sail the world in 116 days with the Semester at Sea study abroad program. From January 5th to May 1st, Carly continued her Neuroscience and Art History double majors aboard a cruise ship, stopping along the way to travel from ports dotting the globe. Semester at Sea's mission is "To educate individuals with the global understanding necessary to address the challenges of our interdependent world," aligning with the Honors College's philosophy to call the world your classroom. Carly's whirlwind adventure began in San Diego before setting off for Hawaii and sailing around Asia to Japan, China, Myanmar, Vietnam, and India. Her program didn't stop there, continuing to Africa at Mauritius, South Africa, and Ghana before working her way up through Morocco to Europe. Portugal, the Netherlands, Hungary, Austria, and the Czech Republic were last but not least on her itinerary.
With so much to do and see, it's hard to imagine what any particular day during her study abroad could have looked like, let alone become the usual. "On the ship, we would wake up, have classes, hang with friends, and have a movie or something at night. Without internet, we played A LOT of card games. But I miss having no social media/internet and what came with it: stargazing on the end of the ship, deep conversations with my friends, and exploring. When we landed in country, it was go-go-go—not a moment of rest. The travel was independent so we had to plan everything with people on the ship who we met. It was such a growth experience to travel this way—sometimes we would just pack a bag and explore."
These experiences served as opportunities for your abilities to develop outside your comfort zone. Since Carly had to adapt to vastly different cultures on a regular basis, being lost in translation gave countless stories to see herself through new lenses. "One moment I will never forget was in a train station in Japan. My friends and I had just bought some gyoza (a type of wonton dish) and we were looking everywhere for somewhere to sit down and eat, but we couldn't find any chairs or tables. We finally settled for the corner of a department store-type joint and ate our food standing up. As we finished up eating, we realized that the store had closed and all the employees were awkwardly staring at us, politely waiting on us to leave. We hustled and threw our garbage in what we thought was a trashcan before we left. When I turned around, I saw a wet umbrella symbol on the side of the "trashcan." To make the situation even more hilarious, all of the employees were laughing as we dug out our trash and hurried out!"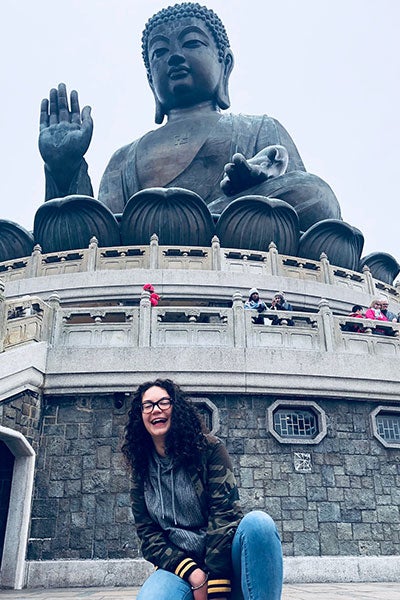 If you ask anyone who's done a bit of traveling, they'll tell you that improvising and rolling with the changes are key to growing with the journey. What we think we can translate from our own background into global impact changes with the new tides we're swept away in, and what impact we bring home is sometimes molded by cultures that refined our goals. "I went in thinking I could make an impact but quickly learned that the world was to be my classroom, its beautiful people my teachers, and its lessons crashed upon me like the waves that hit the ship day after day—comforting and never-ending," Carly said. "My study abroad was one big perspective shift. It would teach me every day how little I knew about the world I lived in and how small the window of things I had been exposed to was, even though I considered myself open-minded. It humbled me in so many ways."
"ECU prepared me with the tools and the self-confidence to feel I could do something so different than anything I had ever done before. It built my wings up so that I truly felt and feel I can go anywhere and do anything I want to do. I have brought back with me a renewed passion for what I love, an appreciation for our amazing campus and faculty, and an excitement for the global perspective in how I operate on campus and with my fellow students." ECU and the Honors College give students wide-ranging financial support opportunities to pursue their dream experience abroad. Carly received funding through the EC Scholars award and the program's study abroad stipend, as well as scholarship funding through the Semester at Sea program. I asked Carly for some parting words about what the lasting positive change a study abroad experience can mean for prospective students. "It will change you and broaden you. It will provide you with the discomfort to allow yourself to truly grow into more than you knew you could be."
To learn more about study abroad opportunities, you can contact us at 252.328.6373, email us at honorscollege@ecu.edu or visit us on ECU's campus at the Mamie Jenkins Building. To keep up to date on Honors College events and student stories like Carly's, follow us on social media.